About INFINITI of Orange Park in Jacksonville, FL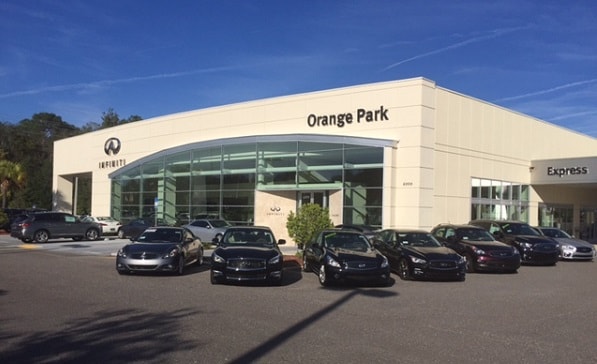 INFINITI of Orange Park is a first-class new and used car dealership that also serves Jacksonville, FL, with solutions for all your automotive needs. With a huge dealership inventory on display, our professional sales representatives can help you navigate our selection of new INFINITI models, Certified Pre-Owned INFINITI models, and used vehicles from a variety of makes and models to find the vehicle that best suits your lifestyle. For auto financing, look no further than our on-site finance team for affordable car loan rates and lease payments. Then our team of certified technicians takes over to help keep your vehicle running for years to come through routine maintenance, auto service and repairs, and genuine INFINITI parts.
You'll meet an exceptional team through every stage of the car ownership experience, and they will not stop until you are 100% satisfied at every visit. You'll also find specials and programs that will add even better service and more value to your purchase. Our Hanania Hand Picked Used Car program provides numerous perks when buying a used automobile, and our concierge service offers the epitome of convenience with every scheduled service appointment.
Because we at INFINITI of Orange Park realize that we owe our success to the Jacksonville communities that surround us, we partner and support with many local charities and local organizations. We are a proud sponsor of the Jacksonville Jaguars, and we regularly contribute time, money, and efforts to many causes that are important to us.
Shopping for your next vehicle is as easy as browsing our inventory right here on our site! When you're ready to talk to us, feel free to call 888-720-9530 or visit us at 6999 Blanding Blvd., Jacksonville, FL 32244.
Why buy your next car from INFINITI of Orange Park?Because this is what Premium Luxury looks like!

• We pay to professionally DETAIL your new vehicle in our VIP Car Spa, a $90 savings!

• We pay a $200 customer Referral Bonus when an Owner brings a friend or relative to us who purchases any new or pre-owned vehicle as many times as you wish!

• We pay for your 1st Scheduled Maintenance visit including Lube, Synthetic Oil,
and Filter Change, and full service… a $58.00 savings! (INFINITI and Nissan vehicles only)

• Check our Web Site for seasonal service discounts and valuable scheduled
maintenance Coupons. Easily a $750 - $1,000 savings opportunity over a 3 year period!

• With every Service visit we have a "Top off the Fluids" policy!

• Our VIP Tire Sales program offers you competitive pricing plus… a 30 Day Tire Price Assurance, great Rebates, all the Top Brands, Expert installation, 24 month Road Hazard coverage and FREE Nitro fill, Service wash, and loaner availability included.

• We electronically maintain all your service records, helping you increase the "ending value" of your vehicle by as much as $700 - $1,500 - it's like a future bonus discount!

• We pay for a hand Car Wash in our Luxury Car Spa, including a vacuum of the inside, with any service visit, $20.00 value X 3 visits per year X 3 years = $180 in savings!

• We offer a huge fleet of INFINITI Service Loaner Vehicles for you to drive while your
vehicle is being serviced, by appointment, limited to repairs requiring 2 hours or more, an $89 per day savings!

• If we don't have your perfect vehicle in our stock…
We will cheerfully locate a vehicle to fit your needs at no extra charge!

• $500 Excess wear and use/excess mileage charge waiver on your current IFS lease!

• $395 Disposition Fee waiver on your next new lease!

• Special Finance rates!

• Special Certified Pre-Owned Finance rates!

• We have the only Dealer owned INFINITI Certified Body Shop in N. Florida.
Home of the Lifetime Guarantee on our work. 24 Hour Tow Assistance.
Free Estimates. Work with all insurance carriers.

• We have the largest staff of INFINITI Master Technicians in Northern Florida.

• Every INFINITI of Orange Park Team Member is rigorously trained and required
to be fully INFINITI Certified.

• INFINITI pays for 24 hour enhanced Roadside Assistance Coverage, up to 4 years,
a $260 savings.

• We provide a Concierge Courtesy Shuttle to take you to the Mall, etc.
while you have your car serviced!

• When we have a flat tire…we never plug it. We always replace the tire.

• INFINITI provides you with Trip Interruption Benefits, including alternative
transportation and lodging!

• INFINITI offers an Online Payment Program!

• We offer convenient Online Service Appointments!

• We have a VIP Concierge on site to assist Guests as needed.

• Because of our huge book of business with Prime lenders we can usually provide prime finance rates as good or lower than most Banks/Credit Unions. Many times we can obtain excellent financing options for credit challenged clients with our prime lenders.

• We offer a selection of low mile, nearly new Executive Demonstrator and
Loaner vehicles!

• We offer huge INFINITI Fleet vehicles!

• We cheerfully offer substantial sales and service savings to USAA Members, True Car, Costco, and Sam's Club Members, Active Duty and Retired Military Personnel,
First Responders, Primary and College Educators, INFINITI Suppliers and several more.

• We offer the convenience of a Complementary 2nd Delivery Presentation either at the dealership or at your local home/office address to be sure you understand the functions of your New or Certified INFINITI.

• Every INFINITI of Orange Park Team Member is required to pass a drug test, criminal background investigation, driving record investigation (No DUI's for 5 years).  Random Drug tests are administered as well.

• Since our dealership is brand new we have all the latest INFINITI computerized diagnostic and repair computerized systems to assure your INFINITI meets all factory specs.

• INFINITI offers 90 Days till your first payment!

• INFINITI of Orange Park will give you a better price than any other dealer on a comparable new INFINITI!

• We offer special Lease End options on your next lease.

• INFINITI pays for repairs; 4 year/60,000 mile Bumper to Bumper Comprehensive
Warranty; America's Longest Luxury Vehicle Coverage; you won't see a repair bill!

• INFINITI pays for powertrain repairs, 6 year/70,000 mile Powertrain Warranty;
you won't see a repair bill!

• We pay for your premium coffee, soft drinks, refreshments, gourmet snacks,
and Wi-Fi in our comfy state of the art customer lounge.

• We get your license plates from the state for you! No waiting in line at the DMV. Fla. Residents - Sunshine plate.

• We deliver your Fla. license plates to you!

• We also carry a huge selection of INFINITI Certified pre-owned Cars/SUV's using the
comprehensive 167 Point INFINITI Certification Checklist. Any repairs have been made using genuine INFINITI parts by our Certified staff of Master Technicians. A complete copy of the Certified inspection and complete repair history on any of these vehicles is always available for your inspection. Certified INFINITI's come with a 6 year / 100k mile Warranty plus Special Low Finance Rates. Complete Wrap Around Coverage is available.

• We are open for Sales and Service more hours than any other INFINITI Dealer in
North Florida or South Georgia.

• Service and Parts are open 7:00am - 7:00pm Monday thru Friday…
and till 5:30pm on Saturday! Closed Sundays.

• Sales: Open 9am - 9pm Mon. - Friday… Sat. 9am - 8pm… Sun. 12pm - 6pm

• We provide No Charge Concierge vehicle pickup and delivery for Service!

• Hanania Hand Picked Used Cars are always priced at the lowest 10% of the
Current Market.

• Best Price Guarantee: If within 72 hours of purchasing your Hanania Hand Picked
Used Car you find a lower price on the exact same vehicle we will refund you 110%
of the difference.

• You can do the majority of your vehicle transaction paperwork by fax, Fed Ex, E mail, phone to make your purchase experience as quick as possible. IFS credit pre-approval makes your purchase process as seamless as possible! Our goal is to get you thru your Delivery process within 1 Hour.

• Bring your trade to INFINITI of Orange Park and we will give you top dollar for it!

• We have agreements with most area Credit Unions and area Banks so we can
handle your Credit Union/Bank loan paperwork for you quickly and seamlessly!

• INFINITI provides the INFINITI Connection - An innovative connected car solution
that combines safety, and infotainment into a single package!
Includes Automatic Crash Notification, Emergency Call, Enhanced Roadside Assistance, Report Stolen Vehicle, Remote Door Lock/Unlock, Alarm Notification, Maintenance Alert, and My Schedule System. Also available are Destination Assistance, Destination Send to Vehicle, Drive Zone, Max Speed Alert, In Vehicle Personal Assistant Connection, and Valet Alert!

• The Connection system includes WIFI, Google Earth, 3D Satellite Imagery, Street View Maps, and Google Voice Local search allowing you via Voice Commands to search for restaurants, hospitals, historical landmarks, places of interest, service stations, weather reports and maps, etc. No cost on equipped vehicles for 6 months.

• INFINITI In Touch System - Integrates your digital life, including apps, in a system that responds naturally to your touch. Touch, tap, swipe to navigate e mail, stream music, catch up on social media and more!

• Most INFINITI's are designed to run safely on either Regular (87 - 90 Octane) Mid Grade or Premium Fuel (91 - 96 Octane) Performance peaks with Premium fuel.

• The INFINITI Navigation system is satellite driven and Voice Commanded.

• INFINITI Intuition - Integrates a wide variety of settings from your audio system,
to climate control, to navigation to ensure that every time you enter your car,
it knows your preferences perfectly!

• Most INFINITI products feature the latest Bose sound and speaker systems.

• 3 Month FREE Sirius XM on New or Certified INFINITI's.

• INFINITI Personal Assistant - A professional call team is available 24/7 any time to assist you with the simplest question to helping you with needed tasks