Introducing the INFINITI Lifetime Powertrain Warranty!
At INFINITI of Orange Park, we believe in providing our customers with the utmost confidence and peace of mind when it comes to their automotive investments. That's why we are thrilled to present our INFINITI of Orange Park Lifetime Powertrain Warranty to all our customers, designed to protect your vehicle for as long as you own it.
Don't get caught on the side of the road with expensive car repairs!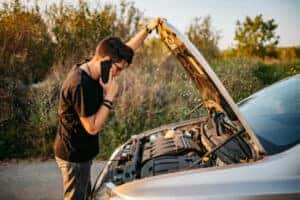 Our warranty covers a wide range of mechanical and electrical components, ensuring that you're protected from unexpected repair costs for the lifetime of your vehicle.
Mileage: No matter how much you drive. Whether you use your vehicle for daily commuting, long road trips, or business purposes, we've got you covered. Pre-owned vehicles are covered as well, with 100,000 miles or less, that were titled within the last 8 years
We have a vast network of authorized service centers across the country. Wherever you are, you can easily access reliable and skilled technicians who will promptly address any issues covered by the warranty.
We understand the importance of a seamless claims experience. Our dedicated customer service team is available to assist you throughout the entire process, ensuring a hassle-free and efficient resolution.
Genuine Parts and Expert Technicians: We only use genuine INFINITI parts and work with certified technicians who possess extensive expertise in maintaining and repairing your vehicle to the highest standards.

Investing in our Lifetime Powertrain Warranty provides exceptional value for your money. With the rising costs of vehicle repairs and the uncertainty of unexpected breakdowns, our warranty offers long-term savings and financial security.
The Obligatory Small Print. To keep your Non-Factory Lifetime Limited Powertrain Warranty valid, you must follow the maintenance procedures listed below. You are responsible for making sure the oil warning light gauge and the temperature warning light gauge are functioning before driving the vehicle. Your vehicle must receive all scheduled maintenance as recommended by the manufacturer's Owner's Manual. You must keep copies of all maintenance and repair orders. Copies must indicate customer name, repair order number, repair order date, Vehicle Identification Number, a Description of your vehicle, Repair order mileage, and a complete description on services performed. We may require you to furnish us with proof that the specified services have been performed. Failure to show proof that all scheduled maintenance and repairs have been performed may void coverage under this non-factory Lifetime Limited Powertrain Warranty.
DETAILS AND COVERAGES OF WARRANTY 
Engine: Cylinder block and head and all internal parts, intake manifold timing gears and gaskets, timing chain/belt and cover, flywheel, valve covers, oil pan, oil pump, engine mounts, turbocharger housing and all internal parts, supercharger housing and all internal parts, engine control computer, water pump, fuel pump, seals and gaskets.
Transmission & Trans-axle: Case and all internal parts, torque converter, clutch cover, transmission mounts, transfer case and all internal parts, engine control computer, seals and gaskets.
Front Wheel Drive System: Final drive housing & all internal parts, propeller shaft, u-joints, axle shaft, drive shaft, bearings, supports, seals and gaskets.
Rear Wheel Drive System: Axle housing & all internal parts, propeller shaft, u-joints, axle shaft, drive shaft, bearings, supports, seals and gaskets.
Deductible: $100 is the amount you must pay for covered repairs per covered component. If your cost is a warranty deductible charge imposed by the vehicle manufacturer, this non-factory Lifetime Limited Powertrain Warranty will pay for the manufacturer's deductible.
Where You Are Covered: This non-factory Lifetime Limited Powertrain Warranty applies to breakdowns occurring within the continental United States of America, Hawaii and Canada.
NOT COVERED UNDER WARRANTY: This warranty does not cover damage or failures resulting directly or indirectly from fire, accidents, theft, abuse, negligence, misuse (racing or overloading), improper repairs, alteration or tampering, including installation of non-manufacturer approved accessories, lack of proper maintenance, including use of fluids other than those specified in the Owner's Manual, installation of non-manufacturer approved parts, airborne chemicals, tree sap, road debris (including stone chips), rail dust, salt, hail, floods, wind storms, water contamination, lightning and other environmental conditions.
It also does not cover:
Tires: Tires are covered by a separate warranty provided by the tire manufacturer.
Normal Wear And Tear: Noise, vibration, cosmetic conditions and other deterioration caused by normal wear and tear.
Maintenance Expense: Normal maintenance services such as engine tune-ups, replacement of fluid and filters, lubrication, cleaning and polishing, replacement of spark plugs and fuses, replacement of worn wiper blades, brake pads/linings & clutch linings.
Vehicle With Altered Odometer: A vehicle on which the odometer has been altered so that actual mileage cannot be determined.
Salvage Or Total Loss of Vehicle: Any vehicle that has ever been issued a "salvage" title or similar title under any state law or has ever been declared a "total loss" or equivalent by a financial institution or insurer, such as by payment for a claim in lieu of repairs because the cost or repairs exceeded the cash value of the vehicle.
Incidental Damages: Incidental or consequential damages associated with a vehicle failure. Such damages include but are not limited to inconvenience, the cost of transportation, telephone calls and lodging, the loss of personal or commercial property, and the loss of pay or revenue.
Discover the peace of mind that comes with our Lifetime Warranty. Say goodbye to repair worries and hello to worry-free driving for the lifetime of your vehicle.
Contact us today at INFINITI of Orange Park to learn more about our revolutionary Powertrain Warranty Program and how you can secure a the protection protection for your beloved vehicle.